George Slaughter has been a regular speaker over the years at meetings, professional conferences, and academic conferences  He shares his ideas with plenty of real-world examples taken from his years as a professional communicator, along with lessons learned from his research and study of various professions and professional leaders.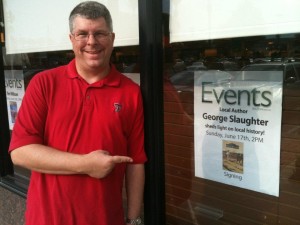 Among other business-related topics, George has presented on:
Best practices in web site content organization and development.
Measuring the value of technical communication in economic terms.
Print-on-demand technology, and how people can use it to create their own books for fun (if not profit).
Public relations activities and best practices.
Nonprofit organizational leadership.
Setting Your Communications Goals.
Three Common Myths about Publishing.
George has presented to a number of organizations, either on business-related topics or about the history of the Spring Branch area of Houston. These organizations include:
Business Networking International (BNI), Cinco Ranch chapter.
Houston Direct Sellers Forum.
Houston History Book Fair & Symposium.
Maud Smith Marks Library Local Author Festival & Market.
Northwest Harris County Retired Teachers Association.
Saint Peter Church.
Society for Technical Communication (STC), both at its Annual Conference and at various chapter meetings.
Spring Branch Central Super Neighborhood Association.
Spring Branch West Super Neighborhood Association.
Spring Shadows Civic Association.
Texas German Society, Harris County Chapter.
George welcomes the chance to present to your group. For more information, contact George.
Follow George on social media: